Students from the Center for Advanced Technical Studies (The Center) competed in several nationwide contests at the Technology Student Association (TSA) National Conference held in Louisville, Kentucky on June 28 through July 2, 2023. Representing all four high schools in School District Five of Lexington & Richland Counties, students participated in contests ranging from engineering challenges and robotics events to digital media competitions.
The Center's VEX Robotics Team of Arthur Airapetyen, Zach Jeffcoat, Alyson Smith, and Jed Smith (Spring Hill High) placed third in the nation in the TSA National VEX Robotics Competition, marking the highest finish for the team to date. "This was a great finish and a testament to all of the hard work the team has been putting in this season," said The Center's Integrated Production Technologies teacher and VEX Robotics advisor, Steve Wilson.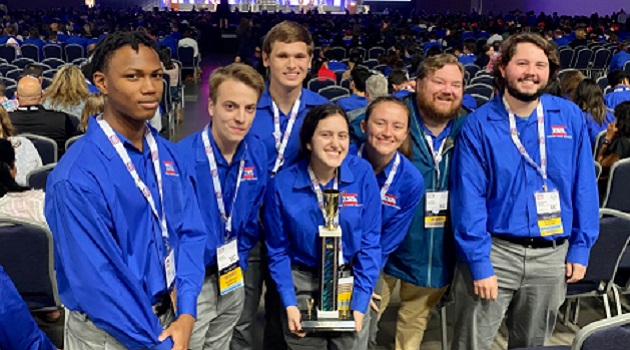 Students from the Media Technology Program at The Center placed first in the country, taking home the national championship in the On Demand Video competition. The team of Trey Carroll (Spring Hill High), Ben Carter (Spring Hill High), Lily Mohr (Chapin High), Reece Nolting (Spring Hill High), Sofia Segura (Spring Hill High School), and Lance Varner (Irmo High School) won this video production competition for the first time in The Center's history and marks the second TSA national championship for the Media Technology Program.
"This win is the culmination of three years of hard work. It's been a goal of mine to qualify for the national conference, so to not only compete, but also place first feels like a dream come true," remarked Media Technology Program student, Sofia Segura.
The Technology Student Association is a 501(c)(3) non-profit student organization whose vision is to accelerate student achievement and support teachers by providing engaging opportunities to develop STEM Skills.
Featured photo: TSA National On Demand Video Team (left to right): Lance Varner, Reece Nolting, Trey Carroll, Sofia Segura, Lily Mohr, Advisor Ashlon Langley, Ben Carter